Be A Part of Something Special
Only 1 week left until Post&Parcel Live! No matter where you are in the world, don't miss your chance to be at this wide-reaching, industry leading conference and exhibition.
Register today to join over 800 of your industry peers from around the world, and learn about the latest innovations and updates to the industry. Check out the latest programme on www.postandparcel.live/agenda and see why you have to be there

Exhibition Hall
Our exhibition hall is bursting at the seams, filled with the industry's best technology and service providers, as well as operators, who will be presenting the latest products and services available to the mail and express industry. Make sure you register and find out more about them!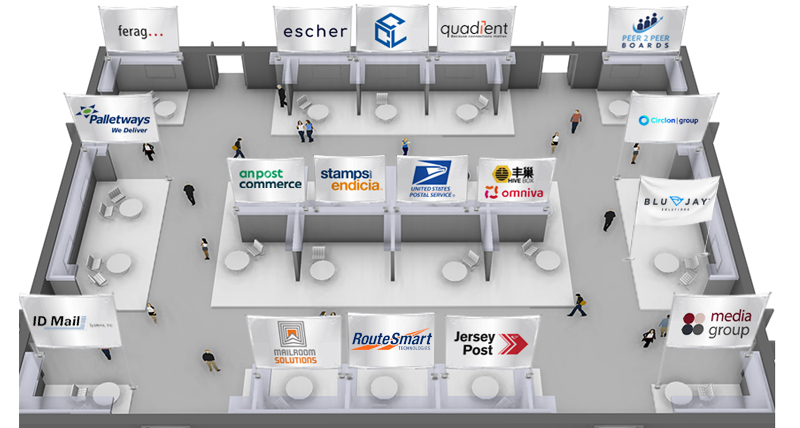 A Truly Global Reach
We know that the biggest challenge with virtual events is the timing, nobody wants to be getting up in the middle of the night to tune in to their favourite speaker. Here at Post&Parcel Live, we will be repeating our programme across 3 time zones so you won't have to miss a thing. Check out our timings below and see what works best for you:
Round 1 (Best Suited for UK & Europe):
10.00 BST – 16.00 BST
11.00 CET – 17.00 CET
Round 2 (Best Suited for USA & The Americas):
16.00 BST – 22.00 BST
10.00 CST – 16.00 CST
Round 3 (Best Suited for Asia & Australia):
00.00 BST – 06.00 BST
08.00 SGD – 14.00 SGD
09.00 AEST – 15.00 AEST

Welcome On Board
We are also very excited to announce BluJay Solutions will be joining us as a Silver Sponsor! Don't forget to hear from them in the conference area!

Welcome On Board
Hear What Our Supporters Say
"We are delighted of being a Gold Sponsor at the very first virtual edition of Post&Parcel Live. At Quadient, we are dedicated to providing best-in-class products, services and solutions for many different industries and needs by creating and delivering meaningful communications when it matters most. Joining forces and supporting this initiative appeared essential to us by being part of this new chapter on Post&Parcel history. We now look forward to making it a successful event."
Quadient
"Circlon | group are excited to be a Gold Sponsor of Post&Parcel Live. With the world being brought to a standstill, the virtual event is the perfect way to keep the industry talking! We very much look forward to meeting you all!"
Circlon | group
"Escher is pleased to sponsor and support Post&Parcel Live! Although we find ourselves in uncertain times, the unique challenges our industry faces present us with an amazing opportunity to learn, share insight, and maintain the relationships necessary for longevity and sustainability. Post&Parcel Live offers a virtual experience like no other and we're excited to learn and share as we connect with our customers, colleagues, partners, and friends"
Escher
"We have been a keen supporter of Triangle's conferences for many years, and are now delighted to be a part of Post&Parcel Live! This is such a fantastic concept to keep the industry networking and communicating when they can't do it face to face."
Jersey Post

Don't forget about the World Post & Parcel Awards!
We will be presenting the World Post & Parcel Awards winners ceremony online virtually alongside Post&Parcel Live at 3PM BST on 16 June. We hope you will join us to celebrate the achievements of the worthy winners, book your place for free now!